Taim Eireannach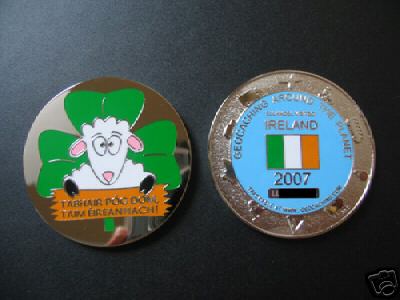 Beschreibung
Das ist ein "Ellandel's Ireland 2007 Geocoin".
Dieser coin hat uns auf unserer Irland-Reise 2007 begleitet. Zusammen haben wir 6.000 km zurückgelegt. Jetzt möchte er wieder zurück nach Irland, um dort all die Caches zu besuchen, die wir auf unserer Reise leider nicht besuchen konnten.
This coin accompanied us on our Ireland-trip in 2007. Together we traveled 6.000 km. Now he would like to go back to Ireland in order to visit there all the caches which we could unfortunately not visit on our journey.
"Tabhair Pog Dom Taim Eireannach" ist Gälisch. Übersetzt bedeutet es: Küss mich, ich bin ein Ire!
"Tabhair Pog Dom Taim Eireannach" is Gaelic. Translated it means Kiss me, Im Irish!
Die wichtigsten Stationen meiner Reise:
Details auf geocaching.com
letzte Aktualisierung dieser Seite: